RECHARGE Diary
In this section you will read updated contents and news about our project and its implementation.
Concepts Harmonisation Workshop - report from EUR Students Ance Skolniece and Maisie Nijveen
A guest post by Ance Skolniece and Maisie Nijveen, students at Erasmus University Rotterdam, reporting on the Concept Harmonisation workshop the project held in March to align the activities and views of our researchers and partners.
------------------------------------------------------------------------------------------------------------
Hi there, we are Ance and Maisie, two students participating in the Arts & Culture Honours Programme at Erasmus University Rotterdam. For our Honours project, we chose to research participatory practices organised by cultural heritage institutions and investigate their value creation processes. One of the cases we chose to analyse is the RECHARGE project. We had the chance to attend the project's Concepts Harmonisation Workshop organised on 2 March 2023 online and we would like to share our experience. This workshop was an incredibly valuable source of information regarding participatory practices and we were very honoured to be able to look at what goes on behind the scenes of RECHARGE!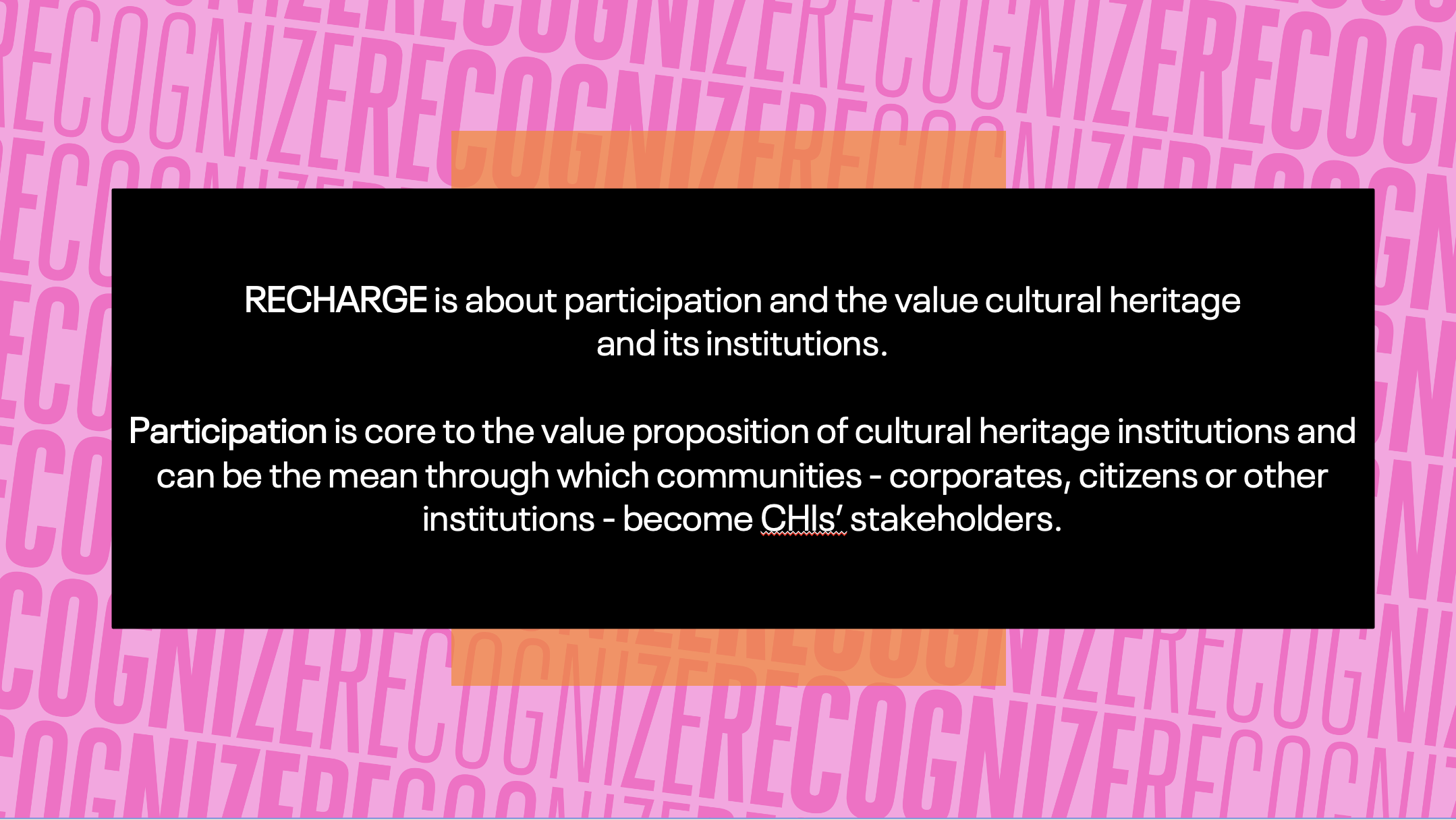 The workshop was led by Trilce Navarrete Hernandez and aimed to get all participants on the same page about the terminology used within the RECHARGE project. During the workshop, the participants discussed the importance of having a clear and collective understanding of the key concepts and terminologies enabling partners to work together. We also had the opportunity to witness the process of defining participatory practices, simplifying such an abstract concept, and making it something that cultural heritage institutions can integrate into their operations, both internal and external.
During the meeting, the participants discussed concepts like living labs, participatory business models, forms of participation and participation activities, target groups, motivation for participation, and a lot more interesting topics. Each RECHARGE partner involved in this activity gave a short presentation on a specific topic they researched, after which the necessary improvements needed were discussed amongst the group.
As students researching participatory practices in cultural heritage institutions, we have realised that the role of concepts' definition in this multidiverse sector is highly relevant. By involving a broader range of stakeholders in arts and culture-related processes, cultural heritage institutions can stimulate and promote innovation and creativity through collaboration, co-creation, and co-ownership. Understanding which type of participation form or activity is most efficient for the wished involvement and result can help institutions maximise their relationship with stakeholders.
Together with all members of the Arts & Culture Honours Programme, we successfully organised a symposium on April 5th at Kunstinstituut Melly in Rotterdam. We shared our research findings on the impact of participatory practices in the arts and culture sector, including the information we gathered from the RECHARGE project. It was a great opportunity for us to present our insights and discoveries, and we were happy to see so many people attending and taking part in the conversation.