RECHARGE Diary
In this section you will read updated contents and news about our project and its implementation.
RECHARGE World in Words: Value
One of the words that RECHARGE members use more often is Value. What does Value mean in the RECHARGE context? Let's unpack all its nuances.
In general terms, Value means a location in a specific categorical scale (such as price, temperature, or size). Value refers to the preference based on socially constructed, dynamic, variable, and multiple notions that inform our understanding of goods and services and therefore inform our choice. To put it simply: value defines what we do or like.
According to who benefits from its creation, we consider value as generated for different stakeholders, and therefore measured in different ways. We can consider cultural value measured in the way culture is preserved and enjoyed, social value measured as the change in relationships and networks, environmental value measured with the diversity and wellbeing of ecosystems, and economic value measured in terms of the transactions and actors involved.
In RECHARGE, value is about benefiting collectively from the outcome of partnerships, or value of participatory processes.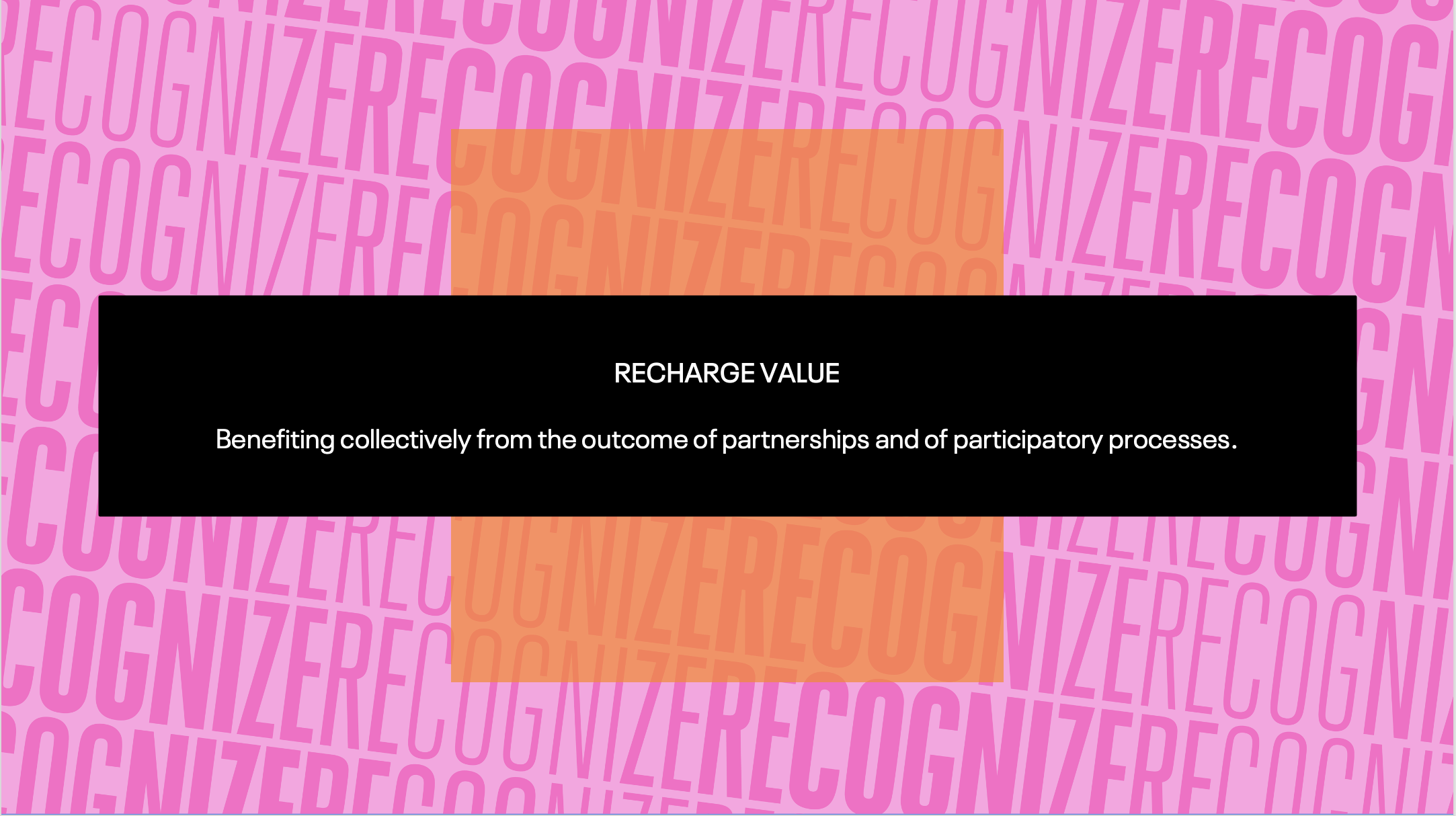 Museums and cultural heritage institutions generate value when they transform resources into new things, such as an exhibition, a guided tour, or a gift for the shop. Considering how to approach potential participants, institutions need to clearly communicate the value proposition: value devised and generated for visitors and for those who participate in the institution's activities, in the form of events and, more generally, offers to the public. The proposition states the reasons why the public would prefer something - a workshop, an exhibition, a co-creative activity - over something else, according to the benefit, quantitative or qualitative, they can get out of it.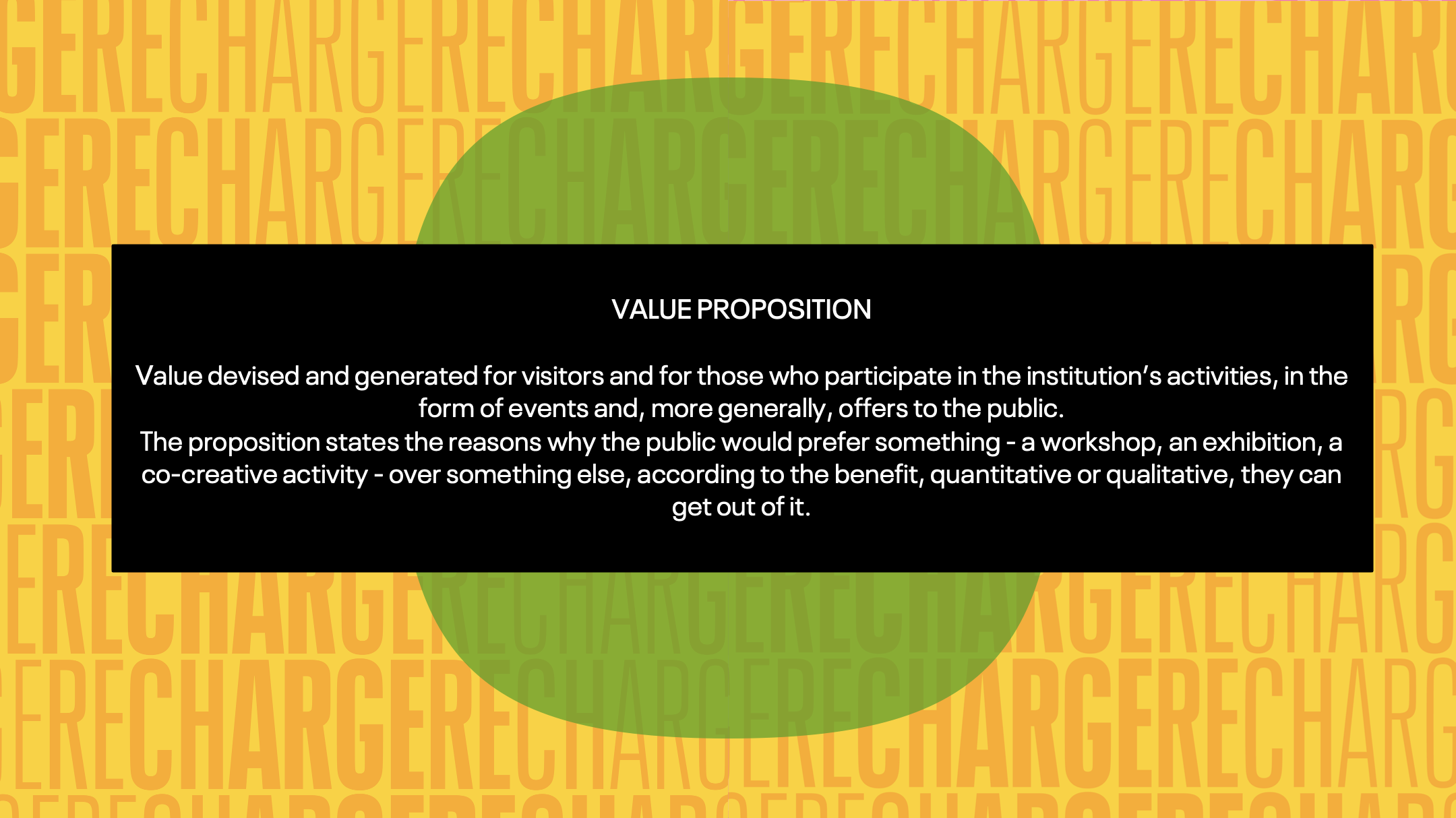 Institutions have to take the value proposition into consideration when thinking about what to propose and how. The creation of value refers to the development of services or products that institutions decide to offer on the basis of their audiences' desires and needs.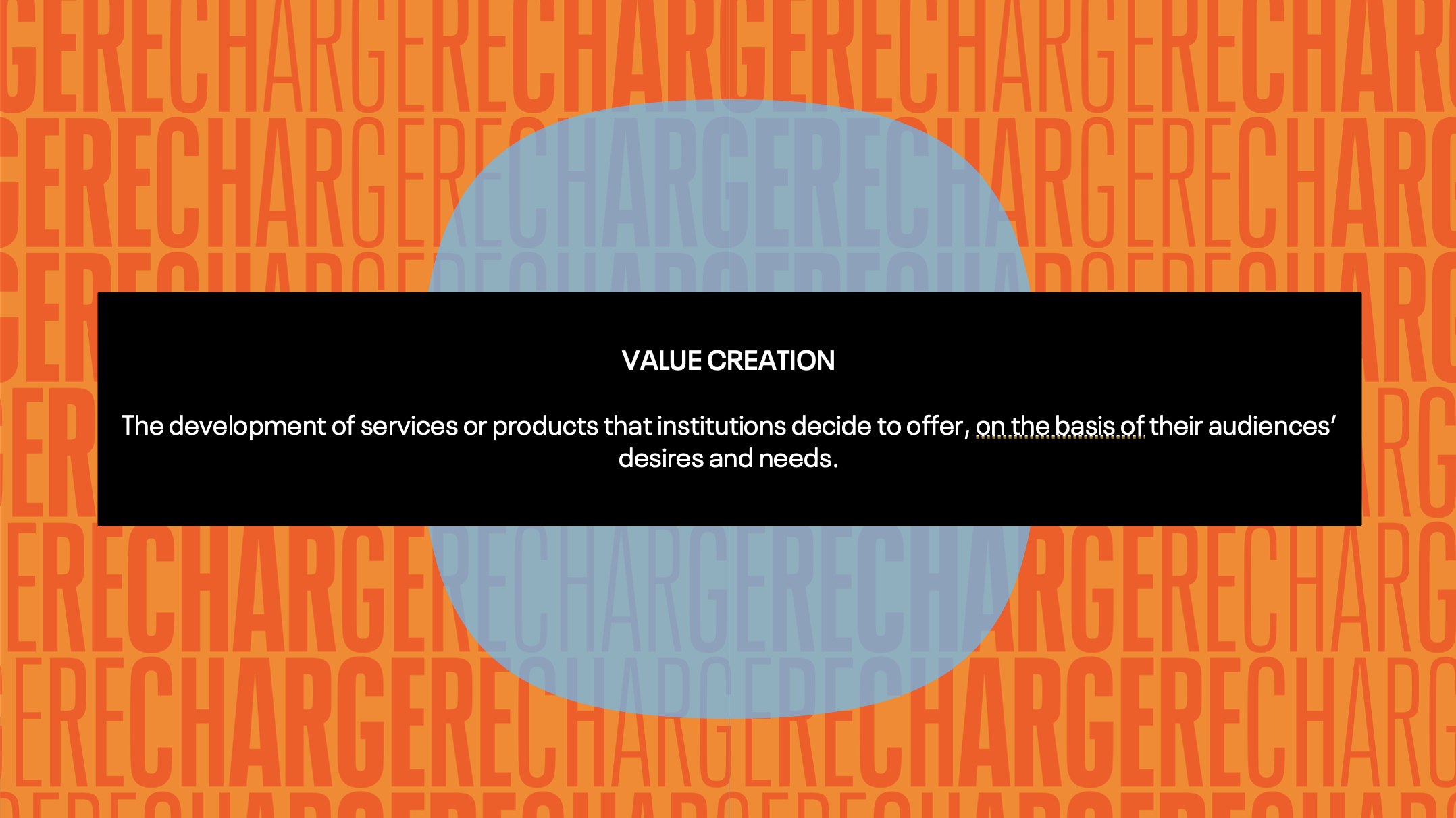 How to assess the success of the offer, which we can consider a sort of enacted proposition, and put into practice? Value can indeed be captured: understood in the form of revenues, reach (the number of people who can benefit from the offered products and services), and reputation (the improvement of the organisation's image), it is possible to measure the results of a specific  activity or even of a more complex plan. The value generated for the Cultural Heritage Institution.